Back To School Excalibur Dehydrator Giveaway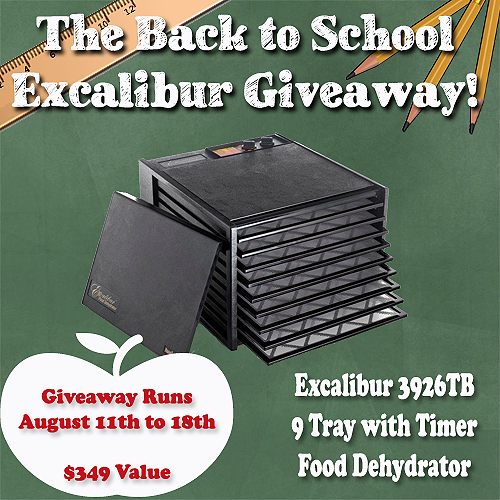 Are you on giveaway overload yet?  As most of you probably know it is Back To School time! A group of blogging colleagues decided to put together a great fall giveaway. What is better than an Excalibur 9 Tray Dehydrator with a timer? Our gardens or farmers' market are in full swing ready to provide the produce so we can dehydrate most fruits, vegetables, meat or herbs. If your name is chosen as the winner what would be the first items you would like to dehydrate? We would love to hear from you!
Here are the bloggers involved in this fabulous giveaway:
1. Food Storage Moms
2. Imperfectly Happy
3. Whole New Mom
4. Montana Homesteader
5. I Get Ready
6. Survival For Blondes
7. Prepared-Housewives
8. Ever Growing Farm
9. Home ready Home
10. Sharing Lifes Abundance
11. PreparednessMama
12. Timber Creek Farm
13. Meliss K. Norris
14. Are We Crazy Or What?
15. Fabulous Farm Girl
16. The Backyard Pioneer
17. Memories By The Mile
18. Hostile Hare
19. That's My Home
20. Common Sense Homesteading
21. Food Storage and Survival
22. Kneaded Creations
This giveaway is open to any resident 18 years of age or older living in the 48 Continental US States. The giveaway starts on Aug. 11th at 5:00 am (MDT). We will choose a winner at the end of the giveaway on Aug. 18th, 2014 at 5:00 pm (MDT). We will email the winner that is chosen and they will have 24 hours to respond to the email sent to them. If after 24 hours we do not hear from said winner, another winner will be chosen. Thanks again for entering and good luck to all!
a Rafflecopter giveaway

Keep preparing! Angela
***************************************************************
Subscribe to my email newsletter for updates and special deals.

Please be sure to follow Food Storage and Survival on Facebook which is updated every time there is a new article. You can also find me on Pinterest, and purchase my book, Food Storage for Self Sufficiency and Survival on Amazon.
***************************************************************
Shop the Thrive Monthly Specials or my favorites, the freeze dried vegetables and yogurt bites!
***************************************************************