National Preparedness Month Big Berkey Giveaway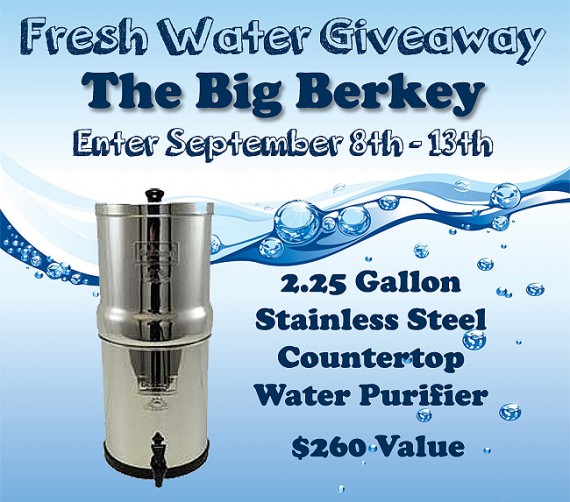 Our friends at CampingSurvival.com have teamed up with us to bring you this fantastic giveaway.  Having clean water in a disaster is one of your top priorities, and a Berkey water filter makes it so easy.  Berkey filters are gravity fed, so there is no extra time or energy expended pumping to get clean water.  Just fill the top reservoir, and wait while the water filters into the bottom reservoir, clean and ready to drink!   And there's no need to save it for an emergency.  With their stainless steel housing, the Berkey filter will look fantastic on your counter every day of the year.  And this week we are giving away one  Big Berkey Water Purifier!
Here are my blogging colleagues involved in this giveaway:
1. Food Storage Moms
2. Imperfectly Happy
3. Frugality Gal
4. Survival For Blondes
5. Fabulous Farm Girl
6. Home Ready Home
7. Prepared-Housewives
8. I Get Ready
9. Kneaded Creations
10. Timber Creek Farm
11. Ever Growing Farm
12. Sharing Lifes Abundance
13. Your Own Home Store
14. Blue Yonder Urban Farms
15. The Prepared Ninja
16. Survival at Home
17. The Backyard Pioneer
18. Food Storage and Survival
19. The Busy B Homemaker
20. Simply Living Simply
21. Memories By The Mile
22. Common Sense Homesteading
23. Trayer Wilderness
24. Whole New Mom
This Big Berkey Water Purifier Giveaway is open to any resident who is 18 years of age or older who lives in one of the 48 US Contiguous States. This giveaway starts on Monday, Sept. 8th at 5:00 am (MDT) and ends on Saturday, Sept. 13th at 5:00 pm (MDT). The winner will be notified by email and will have 24 hours to respond. If we do not hear back from said winner in the designated time period of 24 hours we will choose another winner and they will have 24 hours to respond from the time the notification email is sent. Please check your SPAM email folders. Good luck to everyone! Let's be prepared for the unexpected!
a Rafflecopter giveaway

Keep preparing! Angela
***************************************************************
Subscribe to my email newsletter for updates and special deals.

Please be sure to follow Food Storage and Survival on Facebook which is updated every time there is a new article. You can also find me on Pinterest, and purchase my book, Food Storage for Self Sufficiency and Survival on Amazon.
***************************************************************
Shop the Thrive Monthly Specials or my favorites, the freeze dried vegetables and yogurt bites!
***************************************************************